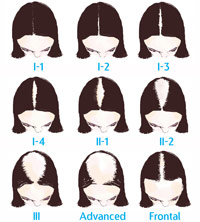 Women also are affected by androgenetic alopecia just like men but they typically do not have patterns as seen in males. Female pattern hair loss affects up to 40% of all women by the time they turn 50. When women experience androgenetic hair loss it is usually a diffuse hair thinning on all areas of the scalp. It not only affects the top, front and back of the scalp but also the sides above the ears and even in the back, below the so-called "crown", the traditional donor zone of male hair transplant patients.
Women usually do not suffer from complete baldness, however, the social impact can be quite significant as female hair loss is not as socially accepted as male hair loss.
Whilst the lower area of the crown is a "safe" donor zone for male hair transplantation, as it is usually not affected by DHT, it is much more challenging in finding a suitable donor zone in female patients. However, many women do have safe donor zones that can be used for transplantation.
Dr. Lupanzula is happy to consult with you, whether or not a FUE hair transplantation would be suitable in your individual case and would be able to give you the desired results.
Before

After
Before

Medikemos

After