Hair is growing in cycles and it is a slow process. For one cycle to complete it can take between 3 to 5 years.
The three stages of hair growth: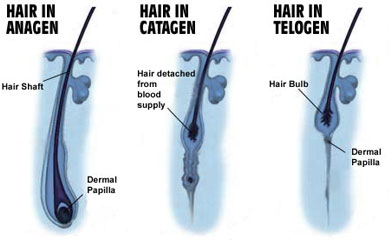 Anagen
This "active" phase of the growth cycle is also the longest. During the course of three to five years the hair will grow longer every day.
Once this part of the cycle is completed the follicle will enter the so-called catagen phase:
Catagen
The catagen phase of hair growth lasts for a few weeks. This is the part of the hair growth cycle in which the bottom of the hair follicle, normally referred to as the "bulb", will shrink and detach from the blood supply in the scalp. While it would be logical to assume that the follicle is now dead, since it does not have a blood supply, this is not so. It is simply going into a state of rest.
Telogen
The subsequent phase is the so-called telogen or "resting" phase of hair growth and it is this part that can cause anxiety for many people. When the hair transitions from the catagen phase to the telogen phase, the follicle will release the hair shaft and the hair will fall out of the scalp.
However, usually the follicle will regenerate, reattach to the blood supply in the scalp and form a new hair shaft. The cycle then repeats itself, unless it is disrupted, which is when we experience thinning of the hair or even balding.
It is perfectly normal and no cause for concern that some 10% to 15% of all hair is in the telogen phase, where between 100 and 200 hairs will be shed every day.